How many times have you chosen a bra driven by the desire to wear a particular piece of lingerie with lace or tulle and then discover that once you wear it, it doesn't fit you well?
---
So how do I choose the right bra?

The perfect bra must adhere perfectly to the body and absolutely must not leave visible marks once removed.
If you notice at least one of these notes, then you are wearing the wrong undergarment:
• The side strap does not fit well (it is loose or too tight)
• The breast does not fill the cup
• The breast is squeezed by the cup (inverse problem)
• The breast comes out of the lateral bands
• The straps go down continuously
• The center of the bra lifts
• Small rolls are created on the back due to the strap
So to choose the right bra you need to have a tape measure and measure the circumference of the under breast and then that of the breast (obviously without wearing a bra).
With these measurements, look at the table below and you will find out which size is right for you!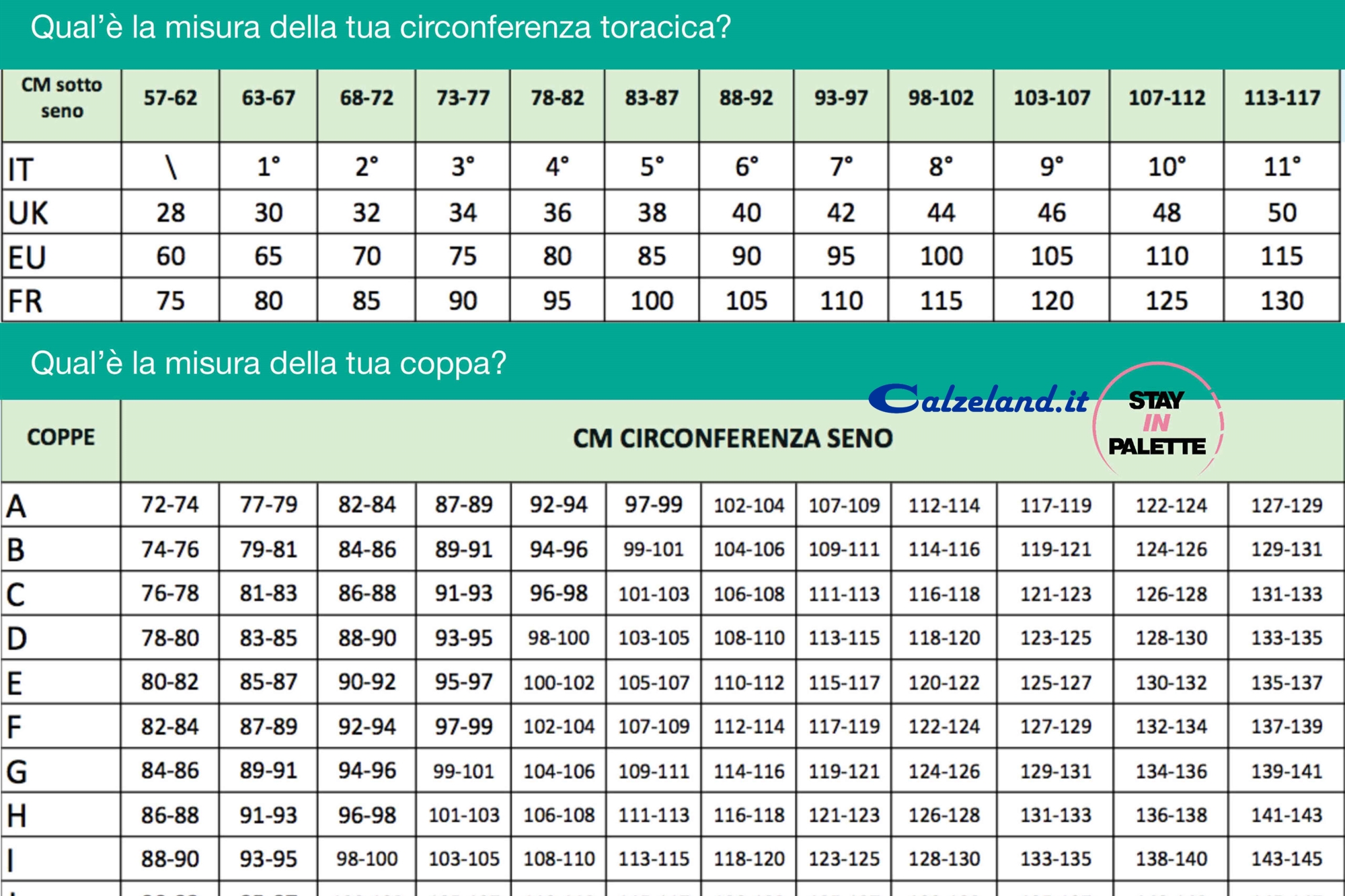 Because every woman can have perfectly "dressed" and supported breasts, with maximum comfort. And it won't just benefit her décolleté: finding and wearing the right bra allows you to enhance the whole figure as a whole. Furthermore, wearing the perfect bra allows you to preserve your well-being, and ensure comfort on every occasion and at every moment of the day and avoid skin irritations, breast inflammation, damage to the back and shoulders.
Every woman knows very well that if the garment is not suitable for her body, if the lacing or the depth of the cups, or the mix of these two things does not prove to be spot on, the garment begins to annoy and one is forced to continue adjustments to reduce wearability and blemishes and often the bra or body ends up abandoned in some drawer because it is uncomfortable or annoying to wear.
Calzeland.it offers different bras for every woman's need.
Cotton bras, bras with molded cups, bras with and without underwire... in short, it's up to you to choose the one you like best among those on offer!
How often should you change your bra?
Over time, bands and elastics can wear out and let go due to use and washing. When your bra doesn't fit your silhouette, it's time to change it. Usually this happens every 6/8 months.
Published by

Calzeland.it